How does the Franklin County region feel about reopening?
As reopening has progressed in the Franklin County region, we were curious about the changing consumer habits for shopping and travel,  new working arrangements, broadband impact, and the open status of businesses. The survey we distributed two weeks ago gathered data on those subjects with the goal of providing some helpful data for residents and businesses of the region.
Shopping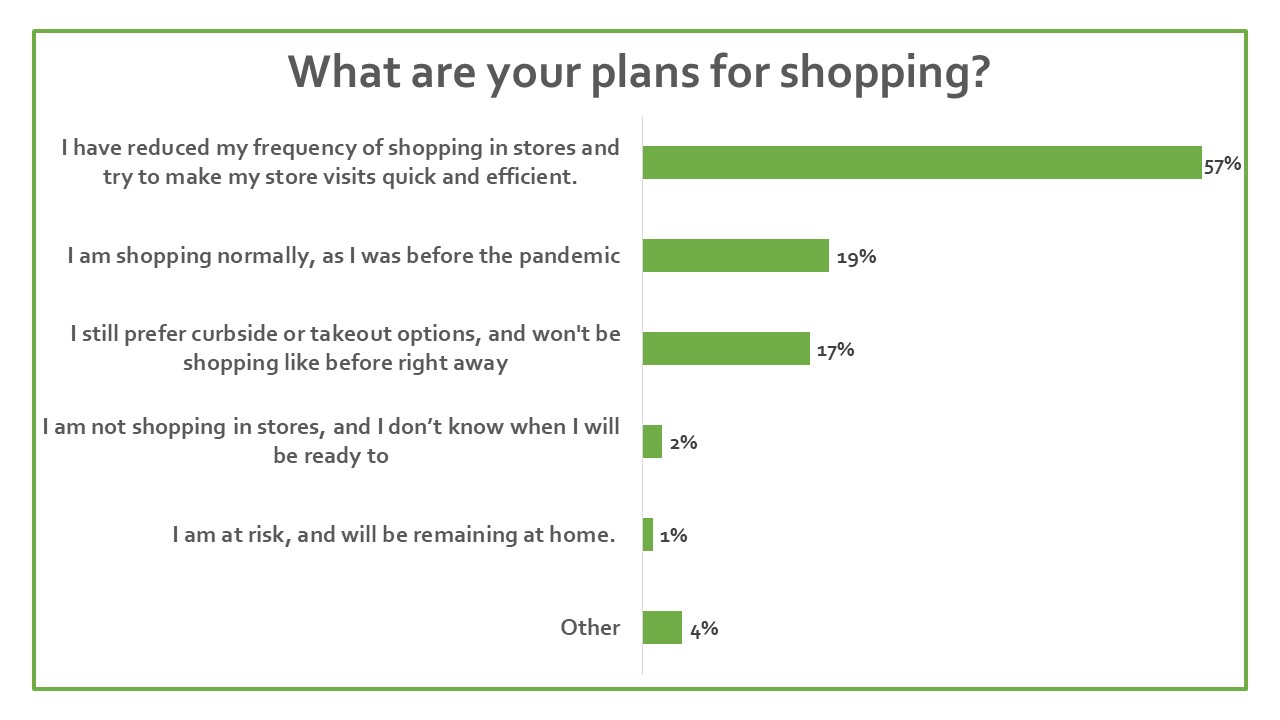 While 19% of respondents said they are making no changes to their shopping habits because of COVID-19, 74% said they have adapted their habits for the times and have changed their shopping routines – 57% make their trips short and efficient, 17% prefer curbside or takeout. 3% are exercising an abundance of caution and are not shopping in stores at all.
The 4% of other responses expressed their frustration with the fact that they wish they could shop normally but cannot due to stores being closed or limited hours, and one respondent voiced that they will only shop at stores that are enforcing the mask requirement.
Events and Gatherings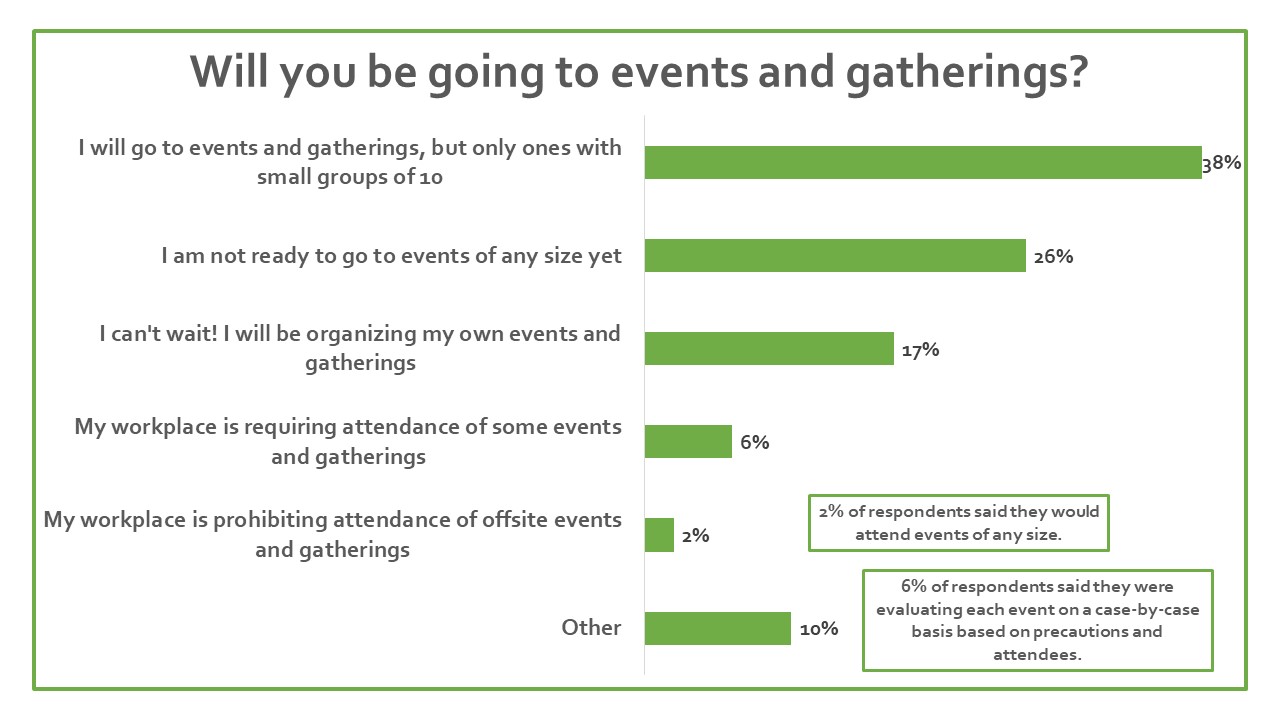 As statewide measures are slowly lifting, people have been adjusting their personal measures of the stay-at-home order at their own paces. While 38% said they would attend events with small groups, 26% said they are just not ready to attend gatherings or events yet. The majority of respondents seem to be lukewarm about event attendance, but 19% are chomping at the bit to attend and organize their own events – however, only 2% of them will attend events of any size without the need for safety measures.
Travel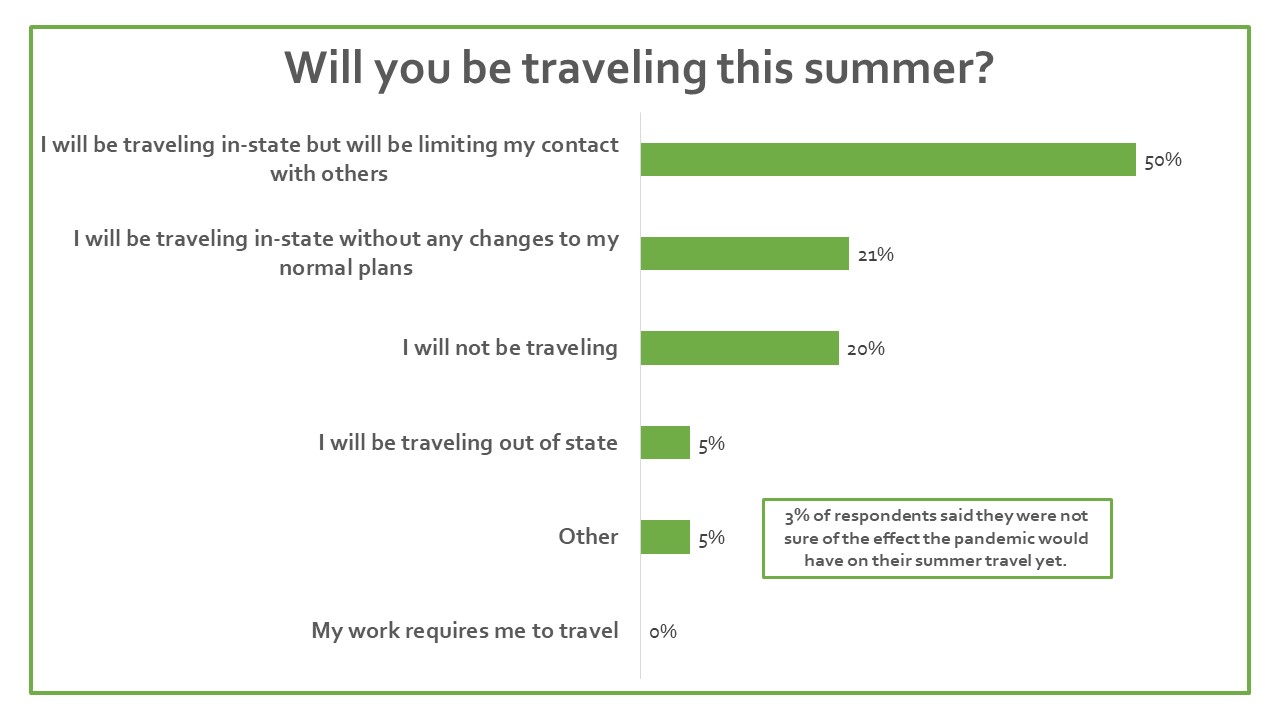 COVID-19 has had a significant impact on travel for Franklin County residents – 70% of respondents have adapted their plans to some degree. 50% will be cautiously traveling in-state (many expressed that they will just be traveling to camps owned by themselves or close friends and family) and 20% have written off travel entirely. Very few will be traveling out of state this summer.
Business Status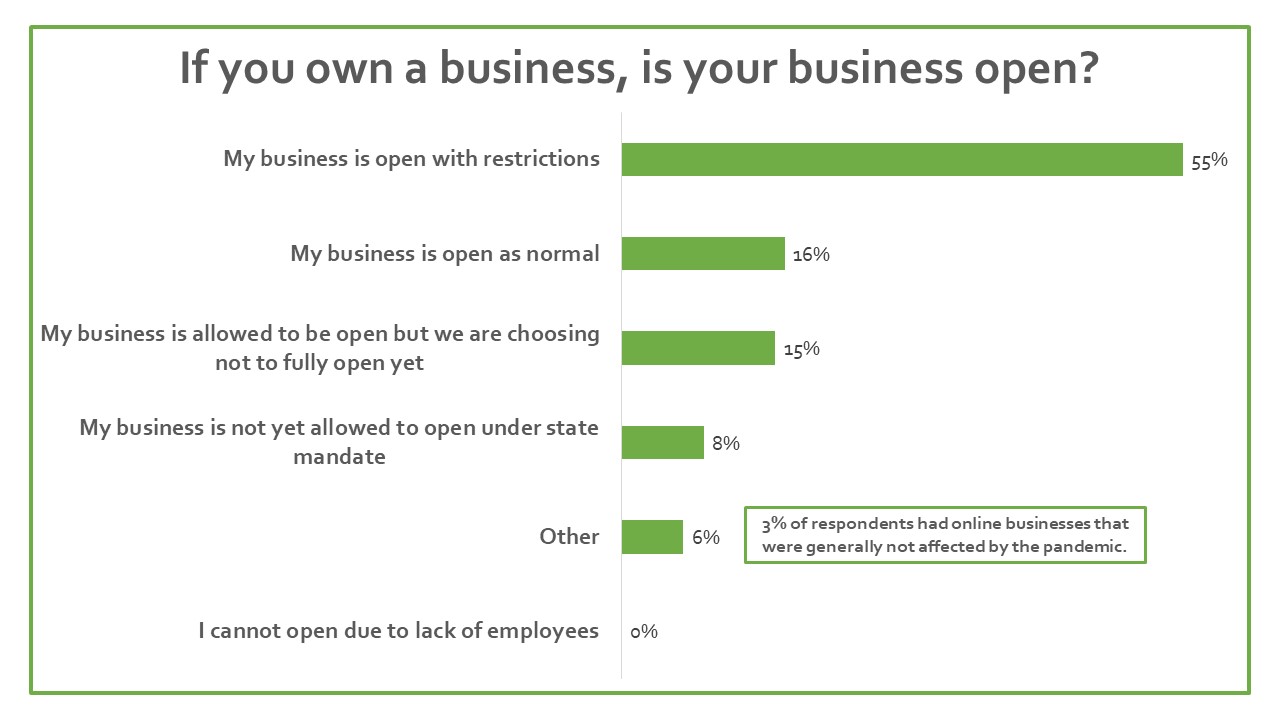 We are in the later stages of reopening in Franklin County, so 74% of respondents who owned businesses said that their businesses are open. Some are open with restrictions, some are open normally, and a few are online businesses unaffected by the pandemic. As of the time of this survey, only 8% of respondents said they are still legally not allowed to open, but state restrictions were set to loosen for some businesses on July 1st.
Remote Work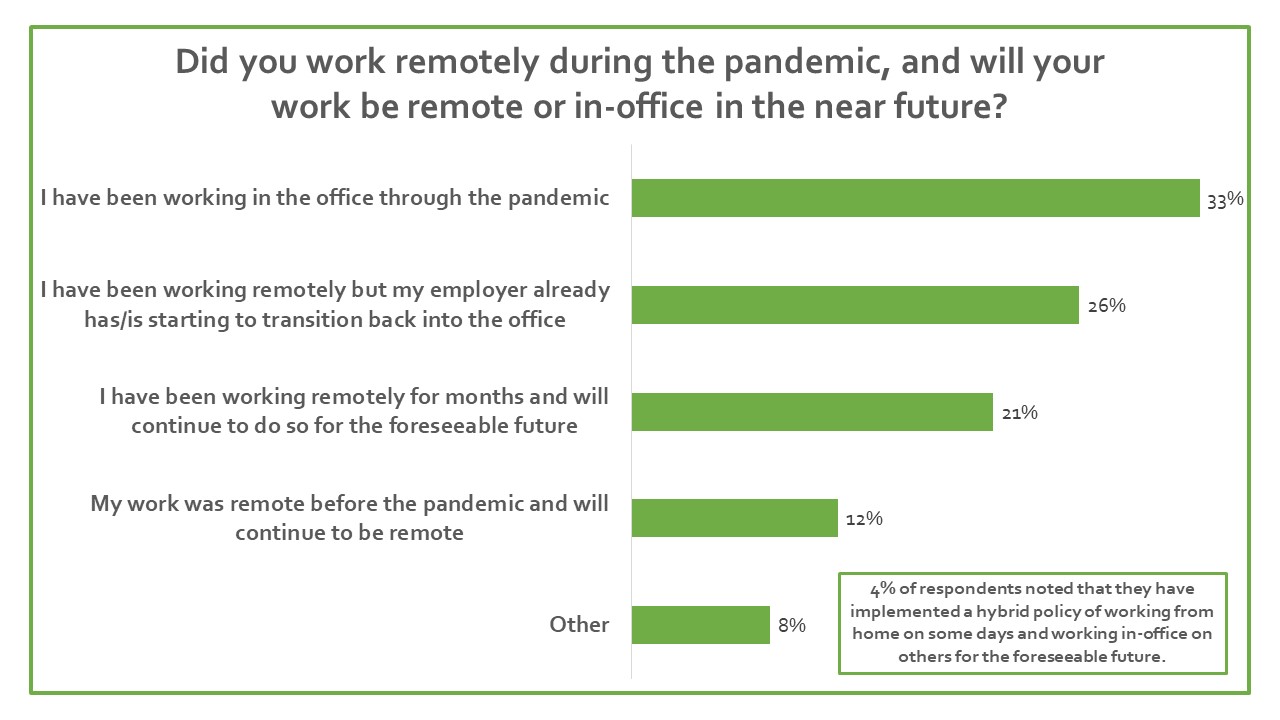 The COVID-19 pandemic triggered the first foray into remote work for many Franklin County employees. 63% expressed that they worked remotely for at least a portion of the last few months. Granted, 12% of those were remote jobs before the pandemic began, but it has proven to many of us that employees are fully capable of doing some jobs remotely. This is good news for Franklin County – our quality of life here is attractive to people that can now relocate from cities and population centers, but keep their high-paying jobs.
Internet Needs
We asked the question, "During the stay-at-home order did you have adequate internet for your household's needs regarding working remotely, your family's educational needs, and/or medical appointments?" to gauge the effect that our sub-par broadband infrastructure had on citizens' abilities to keep up during the pandemic.
The write-in responses we received echoed what we were unfortunately anticipating. Many had very slow or spotty internet that noticeably hindered working and schooling from home – several respondents expressed that it was impossible for a child to do their school work and a parent to work from home simultaneously due to the slow connection. A few respondents expressed that their internet was so bad that it fully barred them from the option to work from home.
The pandemic is highlighting that the digital divide is real, and the 'haves' are continuing to have, and the 'have nots' are continuing to fall behind. Broadband infrastructure helps bridge that gap significantly for those who are the 'have nots'. On the July 14th ballot we can vote YES on #1 to support investment in rural broadband. 
We also asked each respondent to note their town of residence: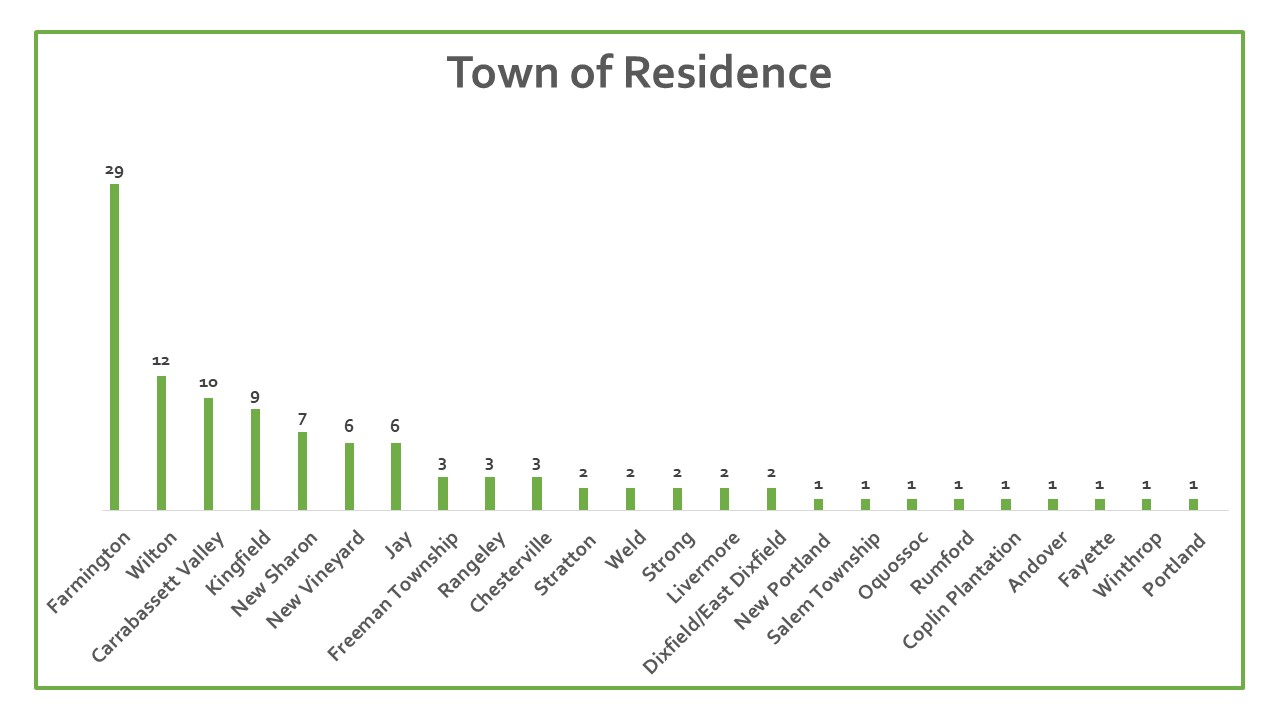 The Lewiston/Auburn Chamber of Commerce conducted a similar survey earlier this summer, and closed on these helpful tips:
Communicate expectations– so people know what to expect before they arrive at your business. Be explicit about use and repercussions for face coverings, distancing, and safety protocols.
Offer options– most people aren't ready to return to "normal", so keep offering virtual options, online ordering, curbside pickup, and ways for people with health conditions to patronize your business.
Go outside– the more you can offer in an outdoor setting, the more inviting you are for folks who are on the fence about dining, shopping, and events.
Model what you want– show patrons what to expect from your business by sharing photos and updates on social media, and ensuring you and your other patrons are acting the way your policies and practices intend.